GreenGeeks reviews –
Page 3
Please enable JavaScript to view chart
Overall:
6.8/10
Visit GreenGeeks
Review GreenGeeks
On average, GreenGeeks appears to be viewed with caution by users on our web site.
This statement was automatically generated by analyzing the reviews and ratings about the company.
See the metrics that we looked at

If this host does not meet your expectations, please browse our search section to find one that does.
Great data base migration by Tech Support
Hi, I transferred my hosting account to GreenGeeks because it was a better plan / price than GoDaddys. I had 3 data bases to transfer over but i have no idea how to do it myself so i asked Tech Support to move all 3 db's for me. They offer to transfer 1 db for free but i asked them about it before i ordered and they said no problem.they will transfer or migrate all 3 for free.
I find there are alot more standard features with GreenGeeks than GoDaddy who nickels and dimes you from every direction. They back up your db's everyday automatically, they submit your sites to the major search engines for free and the control panel (cPanel) has more options and is easier to use than the GoDaddy panel. This is very important especially if your a Internet Marketer
Another thing i was looking for was good telephone support, i wait even less to talk to someone than i did with GoDaddy. And when you send a support ticket it is usually answered within a hour or less. There was a slight problem with the migration of db's but i sent a ticket and they corrected everything Pronto.
Biggest Pro: Price, support, features
Biggest Con: None
Avoid Green Geeks
This company, despite their hype, is one of the worse on the Internet. Their business practices are so questionable that any reasonable person would just pass them by.
They nickel and dime their customers to death and their support and customer service systems are a joke.
For example, a recent request for a very simple support task took more than five hours to receive a reply, and then the request was simply ignored.
Customer service at GreenGeeks doesn't exist. They have at least one rude member (Chris F. – never gives his last name for obvious reasons) who is beyond rude, and, well, obviously undereducated).
Located in California, the company boasts it is entirely "green". It's their hook to get you to spend far too much on their overpriced services, and frankly, it just isn't true.
Before you even consider looking at this company talk to some of their customers: Downtime is awful, personal contact just doesn't happen, and their business model is terrible. We cannot stress enough that you should NEVER select GreenGeeks.
Biggest Pro: There are no pros
Biggest Con: Flat out poor business management
Avoid Greengeeks for business web sites
I have some relatives that host their small business web site with a Dreamhost shared hosting plan and almost never in four years had their system down.
Looking for a drupal-friendly and ecologically conscious similar option, I decided for GreenGeeks shared hosting.
After less than one year I decided to cancel their service because their server had a downtime of around 1% (which means one potential customer of ever 100 will never get to see your site, no matter how much he want to wait for it to load) and they had an "average" response time (which doesn't include the time spent downloading the web page) of more than double from the other sites hosted at Dreamhost. That also means many customers loss that simply don't want to wait more than the usual time.
All the attempts to solve the issue with technical support were usless. I had no interest in making the effort to migrate my site. But they always gave me excuses and didn't make any effort to improve those response times.
I have been monitoring my website with serviceuptime.com and all the response times and outages come from those statistics (which are very reliable)
Now that I finally moved my site to Linode, the response times had decreased to around half of what I had with GreenGeeks.
To sum up, if you want to run a business (no matter how small) don't trust GreenGeeks.
Biggest Con: Response times excessively high (specially outside of US)
A very refreshing difference to my previous hosts
Right of the bet: I would highly recommend using GreenGeeks as a Webhost.
I have been a client with several host before switching my domains to GreenGeeks and in any single case I was frustrated with the service provided as well as the technical support.
The first day I switched to GreenGeeks I experienced how it could be: the support is outstanding, every request I had was processed within minutes! (and not days as with some other hosts) and the best thing was the GreenGeeks staff resolved the request to my complete satisfaction, which was a first for me.
If anyone is looking for a reliable, competent and affordable webhost: GreenGeeks is the best I have ever encountered!
Biggest Pro: Technical support & knowledge

Website suspended non-payment. Restored only shows blank screen.
My site was working perfectly. My site was suspended for non-payment. Once it was paid and this was paid within six (6) hours of it being suspended. Once I learned that the credit card on file for the last five (5) years had been closed by the bank for fraud activity. I updated the card with GreenGeeks. Now my site only displays a blank page. My telephone call today was all mumble jumble. The technician was very unwilling to speak english. He talked as if everyone should be as intelligent about websites and design as he is. When you ask to speak with a supervisor he beats around the bush and say he will give you the same answer I am giving you and he never puts him on the phone. Thanks for hearing me out. Please restore my site to where it was prior to the suspension. A simple phone call before the suspension to update my credit card information could of avoided this. When I received your invoice as always every year you just draft the check directly from my account. Do we get any recognition of being a customer for five (5) years. This should let you know we are not just a fly by night operation. Now we have over 350 clients who depend on the Law Office web site in just one case alone who do not have a way to stay in touch with us in all parts of the world.
Biggest Pro: Ease of use.
Biggest Con: Personal contact
Unethical Business, Stay away!!
I hosted with them for a while, they were pretty bad, and would lie about their down time. The typical stuff-- they say that your computer or network is the problem. That doesn't fly when it won't open on 2 distinct networks, or a smartphone....
So, I let my contract wind down with them. My Cancellation deadline was the 29, I cancelled on the 27. They billed me anyway and refuse to refund my money. The customer services reps say they will pass it up to billing to give me the refund, and then I get a message saying I didn't cancel in time and will not get a refund. I have filed a transaction dispute with my bank and the better business bureau. Stay away from these guys- they do dirty business.
Biggest Pro: Green
Biggest Con: They basically stole 95 dollars from my bank account without authorization
I'm loving GreenGeeks
With almost no computer skills other than basic Word and Excel (not even an internet connection within the past 6 years), I have formed my page structure, created my own template, and completed about 30% of my 26 pages in about 40 hours. My biggest hold up is not being able to find my picture cd that used to be in my drawer...no fault to GreenGeeks for that. Otherwise I would be done by now.
I called customer support a couple of times, always got an answer, with very little wait time. The reps were polite, knowledgeable, listened to my "problems" and then settled my confusion. My phone calls always lasted less than ten minutes. (thank you GreenGeeks for humoring me)
GreenGeeks uses Cpanel with RVsitebuilder. RVsitebuilder is releasing a new version (V5) within a couple of months, so making changes should be even easier! I would recommend, and am recommending GreenGeeks to anyone for webhosting.
I would have given them a "ten", but there is always room for improvement.
Worst, worst, worst ever! BAD NEWS… Horrible…..
The service was terrible, insulting and degrading. We may not be experts, but the service people thumbed their noses at myself and our web designer for not being geeks. After only 3 hours of torture through emails/phone calls, I knew this wasn't the hosting service for our company, and requested a cancellation.
GREEN GEEKS DOESN'T HONOR the 30day guarantee...there are definitely strings attached that aren't made clear…..a $20 refund when things don't work out should be easy for a successful company…who doesn't want bad reviews or publicity.
I HOPE OTHERS WILL BE WARNED....AND NOT USE GREENGEEKS. What a waste of time and money.

Biggest Con: -service and not backing guarantee
GreenGeeks Offer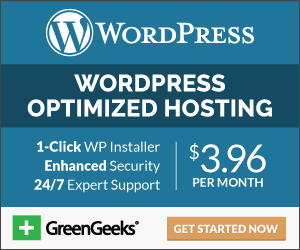 Filters (Advanced)

More Options