GreenGeeks reviews –
Page 2
Please enable JavaScript to view chart
Overall:
6.8/10
Visit GreenGeeks
Review GreenGeeks
On average, GreenGeeks appears to be viewed with caution by users on our web site.
This statement was automatically generated by analyzing the reviews and ratings about the company.
See the metrics that we looked at

If this host does not meet your expectations, please browse our search section to find one that does.
Helping to keep GreenGeeks green
I signed up with GreenGeeks.com for web hosting services. I was working with a web designer to create a web page and we had agreed upon a price. When I filled out GreenGeeks web hosting order form, I just assumed that they where the domain registar, Wrong. On this form it states that set up fee is included $15.00 and so is the domain registration fee $13.95. They also offer a 30 day full money back guarantee. A few days later I receive a call from the web designer telling me that the web page project will cost a good deal more than what was agreed upon, so I cancel this project. Then I fill out GreenGeeks cancellation form and I get a email telling me that it has been received and is being processed. About a week later I receive a email telling me that my refund is $104.00 and I wonder what happened to the other $29.00 I had paid. I inquire about this $29.00 and I am told that $15.00 is a set up fee and the other $14.00 is for the domain registration. What happened to these being included as listed on the web hosting order form. A wait a few days to see that my domain info has been taken down from whois and there it is. I see that enom.com is the registrar. I ask them to remove this posting and they did not comply or reply. Then I notice that GreenGeeks.com is listed as a reseller of my domain . Enough already. They would like us to believe that they are being very earth friendly with their wind energy and such, but you and I both know that what is keeping them green is your and my money any way shape of form they can beg, bore or steal it. I would not recommend this company to my very worst enemy.
Don't Loose Your Domain!
Anybody can be a fair weather friend. As long as you don't ask much and pay your bill's things can seem fine.
I thought GreenGeeks was fine... until they lost my domain name.
Only when everything was cut off, did I realize how vulnerable I was.
My domain and related email addresses were my businesses only online presence and contact for the last decade.
And only now have I realized that in promising to 'pay for my domain for life', and transfer it to them, that they'd taken total control of it. I found out I'm not even authorized to ask about it any more.
Now anybody can make a mistake, but the way they seemed to be deceptive about it, really seemed shameful to me.
Needless to say, I'd never have anything to do with their company again.
Biggest Con: Seemed incompetent ands deceitful.
Pretty good until the end, then they were *terrible*!!!
I was pretty happy with the service at Greengeeks until the end, when I decided the site wasn't helping our business. Then they turned into the worst kind of shysters. I followed their cancellation policy to the letter, only to find that they put a bunch of hurdles in your way, and kept rejecting my cancellation request. Then I found out why - if you cancel before your 3-year plan is up, you get to leave for free. If you're late cancelling, THEY EXPECT YOU TO PAY FOR THREE MORE YEARS. They think they've set up some kind of subscription. Huh?
It gets worse. Following their cancellation policy isn't enough. They put most of the important details for cancelling in their *renewal* section of their terms. So if you're planning to *cancel*, you need to follow their rules in *renewing* to successfully cancel. In the renewal section they say you have to cancel 5 days before your term is up. The cancellation section says nothing about that.
It gets even worse. If you didn't manage to get your account cancelled more than five days before the term's up, they bill you for the next full three years, and then they start threatening to send your account to a collection agency! That's right, they think it's reasonable to charge you for three years for nothing, and threaten to hit your credit for what you're not going to get.
Biggest Pro: Hosting seemed to work OK.
Biggest Con: Complete A$$@!#%s when you decide not to renew.
Greengeeks rocks, they are good
IT ROCKS, BECAUSE:
What I can certify about greengreeks is that they are knowledgeable people, they are highly qualified. This is important because sometimes you are stuck with a problem and you have no idea how to solve it, they have even solved my own configuration problems which were not theirs.
Second very important thing, support is easily available. They answer within minutes, and often I get the issue solved in less than 5 minutes!
Also, even if you are on a shared hosting, you get a notification by email of anything that happens on your server, and that is something that I have only seen when I had a dedicated server elsewhere.
Another thing, is that I can have as many addon domains as I want paying just for my main domain.
Another very important thing, yes, other hosts also have it but, is that you have cpanel and softaculous. Not all hosts have softaculous and believe me, you are going to want that. One click and the whole application is installed with all dependencies. It would a nightmare without that.
Great Support for Drupal Sites
I currently have 35 websites running Drupal, I use 4 different host - for a number of reasons, but I have found over the last three years that Green Geeks offers the best support in a shared environment. I love developing sites in Drupal however each one seems to operate a little different even when I think I've installed the same general modules. The best advise I can give others is to host with a company that supports Drupal hosting. Two of the companies I use do and two don't even seem to know what Drupal is (scary!) I have never called the support team at GG but I have sent emails to their support and 99% of the time they have better answers and suggestions then I could have expected.
I'm sending this review today because I noticed they are getting some bad reviews - and I just wanted to say that has NOT been my experience. In the past they have even upgraded their resources to meet the requirements that are required by Drupal. I feel for those that have had issues because not all of my hosting experiences have been as good as those that I've had with Green Geeks.
Biggest Pro: Drupal support

Previous reviews by Shannon McNaron




The information below is no longer valid because the user has posted a follow-up review above.

Read other entries by this user:

Great support for Drupal

I moved a site to GreenGeeks from Host Centric last year, I did have a few months in the summer when I was having problems with my site and their servers but they did an upgrade and those issues went away. I have been learning Drupal and used it for about 10 sites now, the sites are on a number of different host and GreenGeeks is the only one that really provides help for Drupal, which when you are first learning is very helpful and appreciated. Most companies tell you 'we don't support 3rd party applications'.

Great Drupal Support

I moved one of my accounts to Green Geeks because I was having performance issues after installing Drupal 7. Their reviews said that their web platform was designed for drupal so I gave it a try and the speed of my site was much better. Now I have web sites on 3 different host (considering moving everything to Green Geeks) so I have dealt with tech supporting drupal with three different companies and Green Geeks is FAR better, they are quick to respond and their first line support usually always fixes my issue for me where the others will send me a link to drupal.org where someone else has had a similar issue, when I tell them I have already tried that fix they turn my ticket over to level II support - which means you wait 24-48 hours. I'm not saying the others don't fix the issue but it takes longer. It gives me the feeling that Green Geeks hires tech support that understand drupal. I'm very happy with them.

Excellent Support & Excellent Server Speed

I have had hosting with a different company for more then 10 years. Recently I started learning drupal and installed it with my old company but the pages loaded so slow I knew my customers would never wait for the pages to load so I started looking around. GreenGeeks had a number 1 rating so I took a chance. Wow the speed is so fast! Because I was new to drupal I had some issues with errors when I loaded modules. At 9:30 PM on a Saturday night I contacted the tech support (never expecting real support after hours) George was quick to fix two issues for me. I'm going to have to look at moving all of my sites to GreenGeeks and I'm going to tell everyone my story.
Avoid GreenGeeks for WordPress
Avoid GreenGeeks for WordPress websites. They have no clue! This weekend one of my websites was under attack. Instead of going after the culprit, they shut my WordPress website down and sent me an email Saturday night at 10:10PM stating that the website was over the resources limit - Huh? The website hadn't done anything but sit on their servers. It was a program from OUTSIDE of THEIR servers that was eating up the resources.
I communicated with them via email and on the phone. They acknowledged that the website was being attacked... They do not understand that their actions are extreme - It is 36 hours later and they will still not open the website.
I have requested a cPanel backup and I'll move it...Just wanted to warn others. It is commonplace that a WordPress website comes under attack - I deal with 4 other hosting companies that know what they are doing and have other, humane responses.
Biggest Con: Inexpereince and/or laziness
MET AND EXCEEDED!!!
these guys write real replies, and give me real information. no cookie cutter response and are all super friendly.
Greengeeks has met and exceeded my expectations and I now have two packages with them and have moved all of my hosting needs over to them.
I could not be happier with them. I have used godaddy, dreamhost, 1and1, hostgator, hostpapa, pacifichost, etc. I was starting to think all hosting companies are a joke and then i took a chance here.
Biggest Pro: REAL replies
Biggest Con: sometimes the sites are a little slow to load, but still faster than godaddy
Best support team ever
Since I was left in charge with the task to create, develop and update my company's website, I encountered several challenges.
And without any exaggeration, Greengeeks has helped me immensely. They have the best support team by far compared to any other service I have ever used in my life. I don't usually write reviews but after the 20th time they saved my job, I felt like I should.
Most recently I accidentally deleted a file from the File Manager and they not only fixed that, they did what I was trying to do in the last three days in minutes!!
I can't emphasize enough how a great support team makes Greengeeks that much better. I am extremely satisfied with their products and services.

Biggest Pro: Support team
Biggest Con: none
Support has been excellent
First of all I am amazed to read the reviews of GreenGeeks that are posted on this site. It is like I am dealing with a different company . I am new to designing and uploading web pages and the technical support at GreenGeeks has been impeccable. I am accustomed to waiting for responses to my questions with other tech support, hours or days. Not so with GreenGeek, they answer with in the hour and they don't get impatient. Highly recommend them.
Adore these guys!!
These guys are smaller than the other mammoth sites, but they are Green, and they are amazing.
Tech support is absolutely unparalleled... And if someone else paid me to host, I wouldn't switch.
Only one short year ago, I was hired by a company to be their "media" arm. They then said... You will build websites and we will host them.
No mention that I had to learn all of this in 45 days. GreenGeeks to the rescue- patience and love, and many support emails later, we are very successful, and they are mostly to blame. :)
These guys don't stop... 24/7 tech support and a can-help attitude that is so very rare in the online world. They chat. They email. And, don't tell them I said this, but they call. No forums. No 3day waits. Best of all, you cannot ever hear an "ugh, her again" in any of their correspondence... And I know they think it. These guys have the hearts of educators.
I have actually turned quite a few on to them, and the reports are unanimous amongst my friends... "STELLAR"!!

Biggest Pro: Support
Biggest Con: None.
GreenGeeks Offer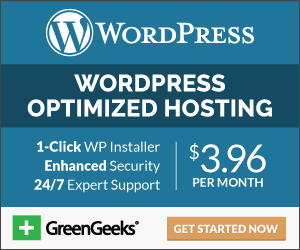 Filters (Advanced)

More Options