GreenGeeks reviews
Please enable JavaScript to view chart
Overall:
6.7/10
Visit GreenGeeks
Review GreenGeeks
On average, GreenGeeks appears to be viewed with caution by users on our web site.
This statement was automatically generated by analyzing the reviews and ratings about the company.
See the metrics that we looked at

If this host does not meet your expectations, please browse our search section to find one that does.
No Problems Here!
Green Geeks has been our web host for well over 5 years and we haven't had any issues...at all. I'm not sure why there are so many horrible reviews, but I can assure you that there are no problems with us. I have recommended Green Geeks to other people and haven't heard any negative feedback from them either. I love that there is little to no downtime and if I have a question, they are quick to reply and assist.
I would definitely recommend them.
Biggest Pro: Little down time
Biggest Con: Cost
Long time customer
I have been using GreenGeeks for over five years. I've never had any issues with either bandwidth or uptime.
While not often I have had an issue or three that were mostly self inflicted. GreenGeeks support was quick and responsive in all cases.
In the past I have used other hosting but the fact that I've been with GreenGeeks for over 5 years sort of speaks for itself.
Payment options are also flexible. You can pay monthly or yearly. They will also work with you on a custom payment plan. Personally I pay quarterly.
I have no way of knowing what you want to do with a website but, with the variety of plans, GreenGeeks can probably supply exactly what you need.
Biggest Pro: Flexibility
Biggest Con: Not sure that I can really name one...
Previous reviews by Jay




The information below is no longer valid because the user has posted a follow-up review above.

Need hosting?

You never think about it when all is well but let a site go down and all that matters is support. Green Geeks support is exceptional!

Other than that all the normal features along with some that may not be found on other hosting are all easily accessible through the control panel.
GreenGeeks Powers our Customers
We use GreenGeeks to host our reseller websites as a courtesy to our customers. We have been happy with their uptime and tech support. It allows us to manage 30+ sites with ease. And, at a great price.
Tech support has been very good. We have had a couple times that being able to call in an emergency situation would have felt better. But in the end, the support was there and was very responsive.
Biggest Pro: Uptime reliability
Biggest Con: Email only tech support. Sometimes a voice on the phone would be nice.
Green Geeks for someone who is naive on the net
I have had my site, amongst others, hosted on a reseller plan with Green Geeks for many years. I am seriously naive on all things web yet I have experienced little trouble and great support. A ticket always brings a prompt response and the downtime is virtually none existent. I am in UK and the engineering sessions never conflict with UK business hours. All in all a top service provider with the selling point of lowest carbon footprint, which is good in marketing my business.
Biggest Pro: Quality service response
Biggest Con: No con I can think go!
Patient and Helpful Support
I'm not very good with computer know-how but you folks are the greatest. You are patient, helpful and go over my questions until I understand what I need to do. You always help me with any problem connected with my site and this means so very much to an older person just learning how to run a cottage business online. Thank you for all of your support and I tell anyone who wants information about starting a business to contact Green Geeks. Thanks for being here.
Trudy Stehelin
Biggest Pro: Your patience and understanding with people "new" to starting a business online.

Great 8 years with GreenGeeks
What drew me in were the price, uptime claims, and the environmental aspect. I have been hosting various websites with GreenGeeks for 8 yrs now. Prior to signing up I had worked through a handful of other hosting companies.
During my time since signing up I cannot recall ever running into a problem with server uptime. Speed of page delivery has always been fine and I've always been satisfied with upload performance.
Not being that technical, it would be wrong of me to comment on the technical side of the hosting. What i can comment on is that the staff was always very helpful when I ran into obstacles. On several occasions I put myself into a box I could not find a way out of and in each instance I received solutions and often helpful advice within a very respectable time frame.
In today's world it's very easy to constantly bounce around to the latest deal but based on my experience I plan to continue to use GreenGeeks for hosting.
Biggest Pro: Uptime

affordable and helpful
I have been using greengeeks for 9 years, the main reason I started using them was because they were affordable and let me pay using paypal.
The staff are friendly and willing to help when and where ever they can, in 9 years I have only come across one rude member of staff.
When I was freelancing as a developer I would put serious people on greengeeks as they provide the best service for price.
I will continue to use greengeeks as long as they function
Biggest Pro: helpful employees
Biggest Con: things like SSL are from 3rd parties.
Supreme tech' support and energy conservation in the same package
GreenGeeks has been a godsend to me. I could create, edit, and publish my website in a very few hours. The GreenGeeks Site Builder is as intuitive as anything the computer (often also known as the confuser) can be. When I couldn't figure things out by myself as quickly as I wished, the GreenGeeks Chat people were ready and standing by to help. Usually problems ended then and there on the first Chat, and when they didn't a "ticket" was created that led to almost immediate follow-up by a GreenGeeks developer. In addition, I have read in the printed media where GreenGeeks is making a genuine effort to reduce the demands on the electrical grid by trying to use solar power whenever possible. Data Centers are huge users of electricity both for processing and cooling. Furthermore, GreenGeeks billing has been very generous with me.
Biggest Pro: Support
Biggest Con: Cost
Worst host EVER!
I literally have a problem with this host on a daily basis.
Today it was the secure server going down in the middle of the day for no reason.
Yesterday was my access being blocked because I searched for the wrong word on my own site.
The day before it was the security certificate somehow got changed to soemthing incompatible.
The day before I was blocked from editing my own site due to the use of a wrong word.
Each time there is an issue their standard response is that I need to delete my .htaccess file which is total BS and had absolutely nothing to do with the errors.
They lie to cover their own asses whenever there is a problem..
Avoid these people like the plague!!!!
Helping to keep GreenGeeks green
I signed up with GreenGeeks.com for web hosting services. I was working with a web designer to create a web page and we had agreed upon a price. When I filled out GreenGeeks web hosting order form, I just assumed that they where the domain registar, Wrong. On this form it states that set up fee is included $15.00 and so is the domain registration fee $13.95. They also offer a 30 day full money back guarantee. A few days later I receive a call from the web designer telling me that the web page project will cost a good deal more than what was agreed upon, so I cancel this project. Then I fill out GreenGeeks cancellation form and I get a email telling me that it has been received and is being processed. About a week later I receive a email telling me that my refund is $104.00 and I wonder what happened to the other $29.00 I had paid. I inquire about this $29.00 and I am told that $15.00 is a set up fee and the other $14.00 is for the domain registration. What happened to these being included as listed on the web hosting order form. A wait a few days to see that my domain info has been taken down from whois and there it is. I see that enom.com is the registrar. I ask them to remove this posting and they did not comply or reply. Then I notice that GreenGeeks.com is listed as a reseller of my domain . Enough already. They would like us to believe that they are being very earth friendly with their wind energy and such, but you and I both know that what is keeping them green is your and my money any way shape of form they can beg, bore or steal it. I would not recommend this company to my very worst enemy.
GreenGeeks Offer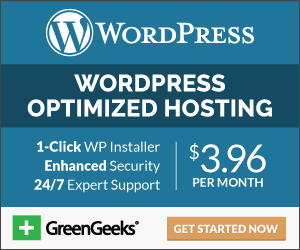 Filters (Advanced)

More Options